PERFECT VENUE HIRE IN BROMLEY
Are you looking for a truly remarkable venue hire in Bromley for your next event? Creating the perfect backdrop is essential to impressing your guests and setting the right tone, to ensure your event is truly unforgettable.
Located in the heart of picturesque Kent countryside, within easy reach of London, The Warren is a Grade II manor house set in 22 acres of parkland gardens, providing an enchanting setting for any occasion, whether it's an intimate gathering or a grand celebration.
Our impressive function rooms are filled with character and history and provide a unique space for any occasion, whether you're hosting a corporate function, a wedding, or a private event.
Party Venue Hire in Bromley For Memorable Celebrations
At The Warren, we understand that finding the perfect venue for your event can be a daunting task. That's where we come in! With our elegant and versatile event space in Bromley, we are here to help you create a memorable experience for you and your guests.
With different versatile rooms available for private functions, you can celebrate any special occasion in style, from a birthday party to anniversaries, christenings, weddings and more. Our charming function rooms can accommodate guest lists ranging from 18 to 350, offering various layouts and styles to suit your needs.
Our expert events management team will work closely with you to create a tailor-made experience that is perfect for your celebration.
From the moment you step foot into The Warren, you'll be greeted with a warm and inviting atmosphere, customizable to suit your needs. So let us take the stress out and allow us to help you create an unforgettable event at The Warren.

Exceptional Corporate Events Venue in Bromley
For businesses seeking a professional setting and a peaceful space, The Warren boasts meeting rooms and conference facilities equipped with all the modern amenities to host a successful event and make your business function productive. From state-of-the-art audio-visual equipment such as sound systems, microphones, hearing loops, interactive white boards, telephone conferencing facilities, to versatile and comfortable seating arrangements, The Warren aims to provide everything you need to ensure a productive and professional atmosphere.
We can accommodate small meetings or large conferences, from 18 to 350 attendees, from team-building events to sales trainings, from product launches to awards ceremonies, and everything in between.
Corporate packages are available to include refreshments, snacks, and lunches, all catered to your needs including special dietary requirements such as vegetarian, vegan or gluten free.
By choosing The Warren as your events venue in Bromley, you can rest assured that every detail will be handled with utmost care and professionalism. Our experienced team will work closely with you to understand your specific requirements and preferences, creating a personalized package that exceeds your expectations. From start to finish, we strive to provide an exceptional venue hire experience that leaves a lasting impression on both you and your guests.
The Warren's Function Rooms
Our versatile rooms include six spaces with distinct character and charm. Venue rooms can be configured for a number of different layouts such as theatre style or classroom style, as appropriate and preferred for your hall hire event.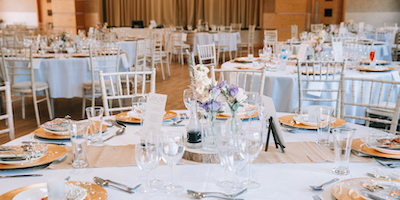 This main hall, The Coney Suite is a large and versatile space, perfect for up to 350 guests, complete with a large dance floor and a private secluded garden for you and your guests to enjoy.
It is ideal for large parties, business conferences and larger weddings.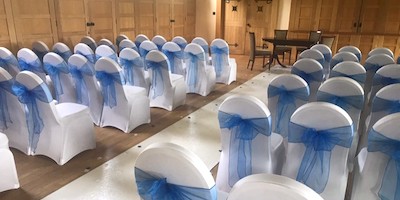 An enchanting room for events of up to 150 guests, with a cosy bar area, and direct access to the gardens.
The Hobbit Suite also benefits from having its own entrance for added privacy.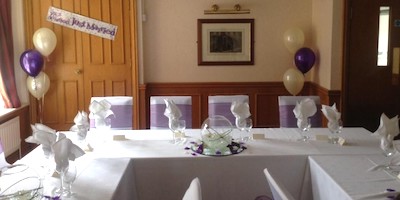 A delightful space, perfect for up to 50 guests, with a tiered layout and covered balcony with stunning views of the surrounding gardens.
The Wickhams Room is perfect if you want a raised area such as for a wedding top table or a stage effect for business presentations.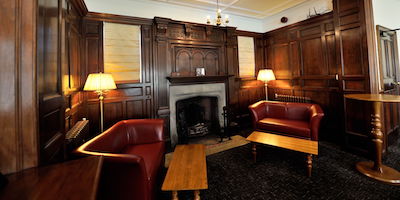 A charming lounge with wood panelled walls and access to a beautiful patio overlooking the grounds, it accommodates up to 50 guests.
The Hayes Room offers elegance and charm, adding a sophisticated air to any event.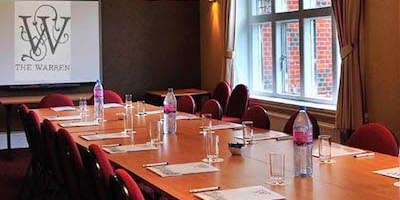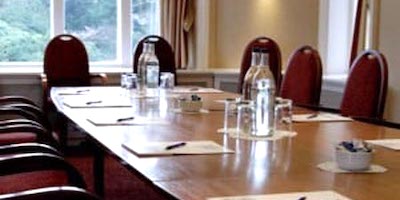 Just a few miles from Bromley town centre The Warren is easy accessible for local guests from Beckenham, Shortlands, Orpington, Lewisham and surrounding areas, including via local bus services. Those coming from further afield can benefit from access to M25 just 9 miles away serving the wioder area of Kent and airports for those from outside the UK. For guests and attendees coming from or through central London, The Warren is served by both Bromley South and Hayes train stations, linking to London Victoria and London Bridge.
Why Choose The Warren for Your Venue Hire In Bromley?
When choosing The Warren venue hire in Bromley, you can rest assured that your event will be held in a unique and captivating setting.
With our all-inclusive tailor-made packages and dedicated events team, every aspect of your event will be taken care of – from planning and setup to catering arrangements and technical assistance. Our team is dedicated to creating unforgettable experiences that will leave a lasting impression on you and your guests.
Timeless elegance in stunning surroundings
Seamless event planning and execution
Culinary excellence to delight your guests
Exceptional service from start to finish
Convenient location in Greater London
With our stunning facilities, expert team and convenient location, we're confident that we can provide the ideal setting for your next event. We're proud to have hosted events for customers from Bromley, Croydon, south east London, and throughout Kent. 
So whether for a wedding anniversary, a retirement party, a business meeting, or any occasion, contact us today with your requirements for venue hire in Bromley, and discover how we can help you create the perfect event enquiries@mpthewarren.com or 0208 462 1266. 
Why settle for anything less than extraordinary? Choose The Warren for your venue hire in Bromley for an experience to exceed your expectations.
Is catering available for events at The Warren?
Yes, our talented in-house chefs offer a diverse range of culinary options to suit your taste, budget, and dietary needs. From light refreshments to buffets to formal dining banquets, our experienced and talented chefs can create bespoke menus tailored to your requirements, including for special dietary needs.
Is there ample parking for guests?
Yes, The Warren has ample parking available for guests. There is a dedicated car park on site with spaces for up to 78 cars, so you can rest assured that your guests will have no trouble finding a space to park. Additionally, the venue is conveniently located close to public transportation links if some guests prefer not to drive.
Is setup included in the venue hire package?
Yes, setup is included in our venue hire package. Our dedicated event managers will ensure that all aspects of your event, including setup or room changes, are taken care of to ensure everything runs smoothly.
Can I customize the venue hire package to suit my specific needs?
Yes, we offer tailor-made packages to suit your specific needs and accommodate your preferences and requirements.
Address
MP The Warren
Croydon Road
Hayes, Bromley
Kent, BR2 7AL
Email
enquiries@mpthewarren.com