COUNTRY HOUSE VENUE HIRE IN KENT
Looking for a versatile and elegant venue hire in Kent? The Warren offers a great range of charming event rooms in a stunning location.
Nestled in the heart of the picturesque 'Garden of England' Kent countryside and set in 22 acres of beautiful gardens, playing fields and woodland, The Warren is a Grade II listed manor house building, making it a stunning backdrop for any special event.
Boasting well-appointed function suites, modern amenities, and fabulous views The Warren is a perfect place for corporate venue hire or private parties, with a capacity to host 18 – 350 guests.
But it's not just the aesthetics that make The Warren stand out. Our talented and friendly team work tirelessly to ensure your event's success.
Our events managers take care of every aspect and every detail to bring your vision to life, taking the stress away and allowing you to focus on your guests on the day.
Our in-house chefs offer a diverse range of culinary options. From quick bites to full dining experiences, from delectable appetizers to mouth-watering mains and decadent desserts, our chefs will cater to your taste, budget, and dietary needs, for your event.
When it comes to venue hire, The Warren offers more than just a space; we aim to provide the perfect environment to make unforgettable experiences.
Celebrate Life's Milestones At The Warren Event Venue
Whether it's a big celebration or a more intimate gathering, The Warren is an ideal venue offering versatile party venue hire in Kent to accommodate any event size and style.
From our spacious indoor rooms to our beautiful outdoor spaces, we offer an elegant and memorable setting that will leave a lasting impression on your guests.
Whether you're looking to host a party for a significant birthday, an anniversary, a baby shower, a retirement party, an engagement celebration, a festive staff party or any other occasion, The Warren's picturesque setting, historic charm, and elegant ambiance make it the perfect venue for a truly memorable experience.
In addition to hosting private parties, The Warren is a perfect wedding venue for couples seeking an unforgettable wedding experience, and our personalised wedding packages ensure that your wedding day goes exactly as you've always dreamt.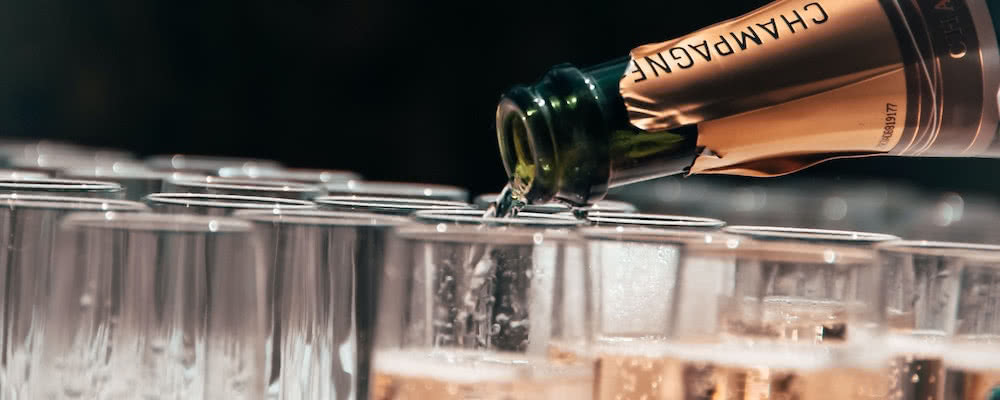 Impress Your Guests with Our Corporate Venue Hire in Kent
From team building to board meetings, from training days to corporate away days, the range of versatile spaces available at The Warren ensures you'll find the perfect venue whatever your next business event.
The Warren's idyllic location, combined with its modern facilities, make it the ideal place for corporate venue hire in Kent. Impress your clients, colleagues and staff with a venue that not only meets your practical needs but also surpasses expectations and provides a perfect business environment.
The function rooms can be set up in a number of layouts to suit your event and are well equipped with resources to ensure smooth and productive business meetings and corporate events, such as sound systems, projectors, telephone conferencing facilities, interactive white boards, hearing loops and free Wi-Fi, to mention just some of the standard features available.
Our comprehensive corporate packages include conference room hire as well as choices of snacks, lunch options and refreshments, for an easy solution so you can focus on business.
The Warren Event Venue Rooms
Each room at The Warren is unique and offers its own features and charm. The Warren venue rooms cater to a wide variety of functions, providing the perfect atmosphere, amenities, and scenery for all occasions.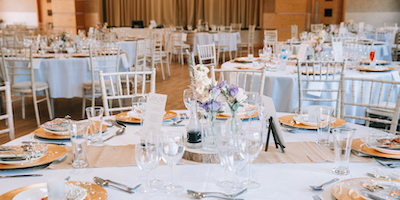 This is our largest function room, which can comfortably host anywhere between 180 and 350 guests. This expansive space has the added advantage of access to a secluded garden for your own exclusive private hire, making it the perfect choice for larger conferences and parties, or other grand events.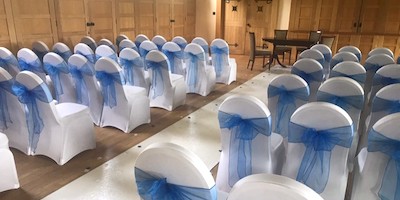 This suite is ideal for medium to large gatherings of 50 to 150 guests. This delightful space comes with its own private entrance and private bar so it offers ultimate privacy for those who want it, and stunning views out across the surrounding gardens and playing fields.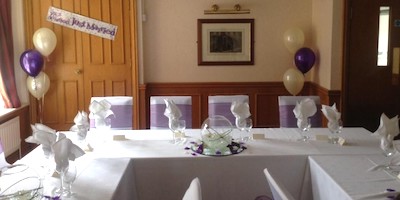 This room is an excellent choice for those in need of a spacious meeting room or a venue for smaller private functions. This charming space can accommodate between 30 and 50 guests and features a unique, tiered layout that is perfect if you are planning presentations or speeches. As a bonus, this room also has a lovely roof terrace.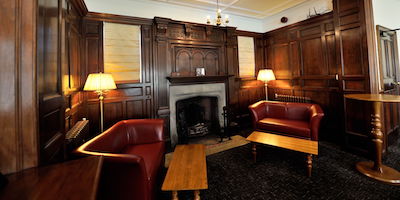 The Hayes Room with its capacity to host 24 to 50 guests and featuring original wood panelling, is an elegant and refined space that adds a touch of sophistication to any event. This charming lounge leads out onto a patio area offering direct access to The Warren gardens.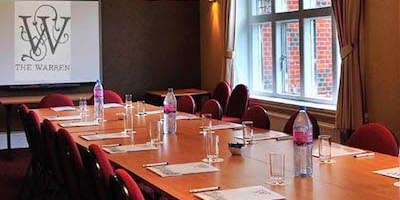 The Conference room is perfect for board meetings, intimate parties, or micro-weddings, and is an excellent choice for events with around 20 to 25 guests, depending on the desired layout.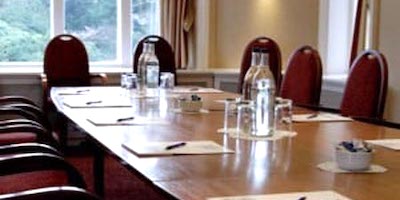 This room is designed with the needs of professional gatherings in mind, it can accommodate 18 to 20 guests, and is well equipped to ensure productive business meetings.
Located in the Kentish countryside in Greater London, The Warren has exceptional transport accessibility making it easy for your guests to attend events, conferences, or parties. many of our regular guests come from throughout the area including Sevenoaks, Maidstone, Whitstable, Canterbury, Ashford, Chatham, Dartford, and surrounding areas.
Just a few miles from both Bromley and Croydon town centres, The Warren is well-connected to Hayes, Bromley South, and Beckenham Junction train stations, which offer regular services to central London, Kent and the South. Additionally, numerous local bus routes pass nearby, further enhancing the ease of access by public transport.
For those arriving by car, the M25 is just 9 miles away, and The Warren provides ample on-site parking facilities, with 78 free parking spaces as well as dedicated disabled parking, for your guests.
Why Choose The Warren for Your Venue Hire in Kent?
Choosing the right venue for your event is crucial to its success. Whether you're planning a wedding, corporate conference, or birthday party, the venue sets the tone and creates the atmosphere for your guests. At The Warren, we understand the importance of the right venue hire and strive to provide an exceptional space and service that meets all your needs.
The Warren boasts a rich history and a timeless charm that is evident throughout the manor house, offering a blend of traditional elegance and modern amenities. The beautifully restored Grade II listed building features elegant wood panelling, cosy fireplaces, and unique architectural details that make it a truly special venue hire in Kent.
Stunning Grade II listed manor house
Tailored all-inclusive packages
Experienced event managers and staff
Exquisite rooms filled with character
Convenient location for Kent, London and the South
What really sets us apart is our dedicated and experienced event managers and friendly hospitality staff. From event planning to setup, catering arrangements to technical assistance, and welcoming service, we make sure everything runs smoothly so you can relax and enjoy your event. From intimate parties and grand celebrations to important business events, The Warren's commitment to excellence and attention to detail will leave a lasting impression on you and your guests.
We're proud to have served clients from throughout Bromley, Croydon, south London and Kent, organising events big and small, personal and business, for over 30 years.
Ensure a booking at The Warren for your next event for a special day at this unique Kent venue hire. Email us at enquiries@mpthewarren.com or call 020 8462 1266
Is The Warren licensed to hold wedding ceremonies?
The Warren has six licensed rooms for wedding ceremonies, allowing you to hold both a wedding ceremony and reception in the same wedding venue. The historic manor house, picturesque gardens, and well-appointed function rooms create a romantic and unforgettable setting for a dream wedding, and celebration menus offer an array of culinary sensations that will undoubtedly impress and delight your guests.
Do you offer all-inclusive packages for corporate events?
Yes, we offer all-inclusive tailor-made packages for corporate events. Our dedicated event managers will work closely with you to ensure all your needs are met, from planning to setup and catering arrangements.
Can we apply company branding to the function room?
Yes, there are numerous options for displaying your brand in our meeting rooms and conference venues. You can make use of pop-up banners strategically positioned within the space and posters can be placed in specific areas in the rooms. Our experienced team will gladly assist you in determining the most effective locations for your branding materials, for a polished representation of your brand throughout your event.
Experience the charm and elegance of The Warren – where unforgettable moments are made. Book your perfect event venue hire in Kent today!
Address
MP The Warren
Croydon Road
Hayes, Bromley
Kent, BR2 7AL
Email
enquiries@mpthewarren.com