The Warren is set in 22 acres of beautiful Kent countryside, within easy reach of London, a large Grade II listed country house built in 1882 by Walter Maximilian de Zoete, a Dutch banker. One of the most unique and versatile venues in the South East of London with a wide range of rooms and facilities.
We are a members club supporting the Metropolitan Police Service and their families. If you enjoy visiting us with a member and would like to continue to use the facilities please speak to a member of staff regarding membership.
You are welcome to hire one of our many function rooms for a private party, wedding, function or a corporate event and you do not need to be a member to do so, although some rooms and events are only available to members.
If you wonder what we have to offer please look at our Members Area on this website for more information.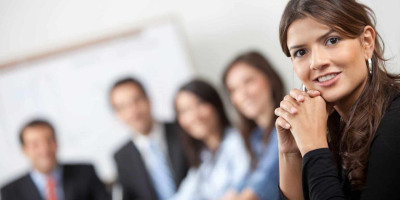 CORPORATE EVENTS
The Warren has some of the most sophisticated and up-to-date meeting rooms and conference facilities in the whole of South East London. We can cater for small meeting rooms to larger conferences of up to 300 people.
Our events management team pride themselves in looking after our clients regular and new, and ensure they get exactly what they require from our amazing location.
So much so that we have recognised the need to provide a facility especially for our Business clients, from small local businesses to larger corporates. 
WEDDINGS
Whether it's an intimate celebration or a large lavish party, The Warren will provide  the perfect venue for your wedding or civil partnership celebration.
From the beautiful parkland gardens to the country house rooms you'll be spoilt for choice for a backdrop for your wedding photos.
Our chefs offer a large selection of  food favourites, from sit down meals to buffets, but if you have any special requests or requirements we will be happy to try to accommodate these.
PRIVATE FUNCTIONS
At The Warren, we can provide several different venues for private hire for any special occasion – whether you are marking a special birthday or anniversary; celebrating a confirmation or bar mitzvah; mourning the passing of a friend or family member; or celebrating a new arrival.
The Warren will provide you with the perfect venue. Celebrations of all kinds are our speciality, choose from an intimate restaurant through to up-scale dinner dances.
Each event is tailor made and carefully planned with you to ensure that every detail is perfect. 
Our rooms can host from 18 to 350 people, and can be set up in a variety of layouts and styles depending on your needs for your type of event – from talks and workshops to sit down dinners or dancefloor and standing events only. Rooms can be decorated for your business brand colours, wedding theme or however is suitable for your event. Our team of experts will make sure it's perfect for your function. Below are some ideas of what our rooms offer, for more details click on the links or feel free to contact us on 0208 462 1266.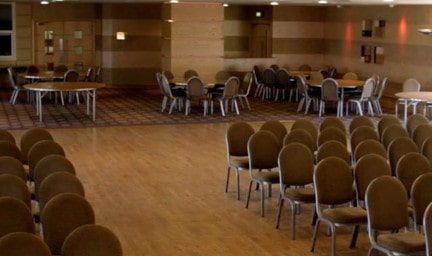 140 – 350 guests
Sound System
Use of Secluded Garden
Ground Floor Location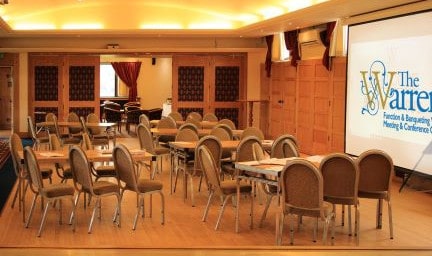 50 – 90 guests
Balcony over grounds
Large screen 
Access via stairs with Stair-Lift
30 – 45 guests
Screen for presentations
Small secluded Terrace
First Floor with lift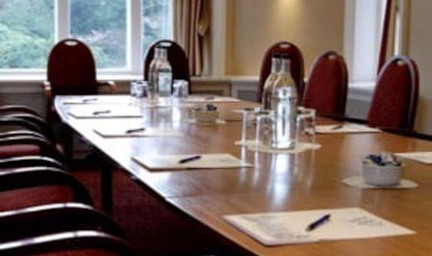 20 – 25 guests
Interactive Board
Telephone Conferencing
First Floor with lift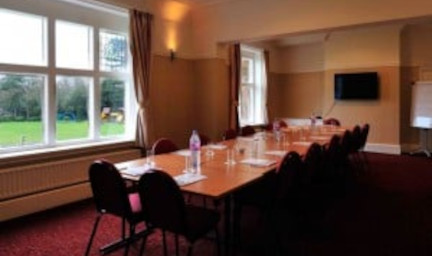 Up to 18 guests
Interactive Board
Telephone Conferencing
First Floor with lift
24 -40 guests
Opens onto large patio
Overlooks Bowling Green
Ground Floor Location
Testimonials From Our Customers
I am hyper critical (part of the job!) but I could not fault a thing on Saturday evening. Your staff were so friendly, personable and accommodating. The bar staff were on their A-game – nobody waited for a drink and what lovely guys there were too. The food was served hot. The room looked beautiful. We received amazing feedback from all our guests! The amount of money we raised on the night was INSANE! It wouldn't have been possible without everything coming together, and that is thanks to all your hard work!
Natalie, James, Chester & Teddy
Thank you Martin and Carol especially for helping us every step of the way from the start of the planning, to having to answer queries from hundreds of emails to the many meetups we had as we really appreciate how much care you put into us. I know that you probably have to do this for every couple that wants to have their wedding or event at the Warren but we are still very very thankful you gave us so much of your time to not just keep the mood light with a giggle or two but actually go through our worries, plans and queries in detail.
Raymond & Ling
Just a quick note to say thanks for the support and general admin you did for our Exhibition. Feedback from the exhibitors was great and everyone was very happy. Many thanks. We'll be in touch about the next event.
Andi Grayson
Super work, guys, on our recent product launch. The consensus was it all went off without a hitch. I know Gary our MD wanted to give Carol a special mention for the extra efort she put in.
Tracy James
Thank you for your professionalism and helpfulness, as well as willingness to accommodate our requests. The venue was perfect, food delicious and plentiful, bar staff efficient and helpful. It was a great relief just to be able to turn up and know that everything was prepared for us as we had requested.
Denise, Direct Line Group 
Thank you so much for the help and support with my wedding plans. The whole thing went perfectly and I had been SOOO anxious. Special thanks to Carol.
Melani Beguin
A really big "thank you" for all your support and help in making our wedding day go so smoothly. We had a fantastic day and everything went extremely well. We will certainly recommend The Warren to anyone else who wants to organise a party or celebration.
Ron & Julie 
I've used the Warren several times now for meetings away from the office. It is a perfect location – a peaceful and relaxed setting to focus on the business at hand, without the constant interruptions of the office.
Dillian Breakspear
The venue is an ideal place for training and corporate events with attractive surroundings, several functions rooms and a variety of catering options.  We have used The Warren several times and will continue to do so.  All the staff are friendly and accommodating, special mention to Martin, Lorraine and Carol. Thank you!
A Smith, Training & Corporate Event Manager
We want to say a huge thank you to everyone involved at The Warren with our event on Saturday night. It was a huge success and the conference team on that evening were a delight to work with – Jordon during the day was very helpful and Caroline was brilliant on the evening as were her staff, and Emily for all the back and forth an accommodation. Thank you so much for hosting the event!
Joanne Bennett, The Chartwell Children's Cancer Trust
Thank you to the duty manager and all the bar staff for everything they did on Saturday night for my birthday/retirement party event. They all went above and beyond, and the whole evening was very enjoyable!
Janet 
Massive thank you to everyone for your help with the Widows Lunch on Wednesday, it was a lovely day and I have already had a number of guests emailing to say thank you – Please pass our thanks to all the kitchen and bar staff.
Lisa London, Met Widows
A massive thank you! Everything was amazing and I have had nothing but compliments from my staff.  Your staff dealt with us in a professional way – everyone was changing seating arrangements, but all went very smoothly, as your staff dealt with the changes perfectly!  Thank you so much.
Stella Koureas, Bishop Challoner School
Last night's Christmas meal in the Wickhams restaurant went like a dream – food was perfect, staff were awesome, the room was lovely and warm. Please pass on our thanks to everyone involved – the General Manager, Chef, all his/her staff, Sin and her two colleagues, and Matt behind the bar.  The whole team were terrific. Thank you, Emily, so much for all your help with the booking etc.
7th WW Beaver Scout Group
Just wanted to say what a fantastic night we all had! The room looked amazing, the food was totally brilliant, the hard work all the staff put in, especially Clare who was so funny and just lovely. And the Band was brilliant. Please pass on many thanks to all the staff for making our evening so special!
Happy New Year!
Helena
 I was at The Warren on Friday for a conference and was so impressed by how friendly, helpful & efficient the two women staffing the cafe were. It was very busy but their standard of service and helpfulness was exceptional. Thank you so much.
Tom Cornish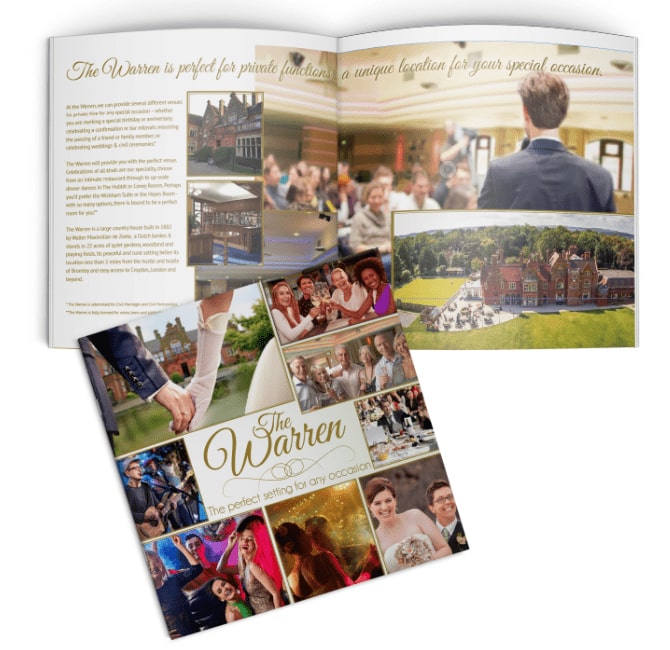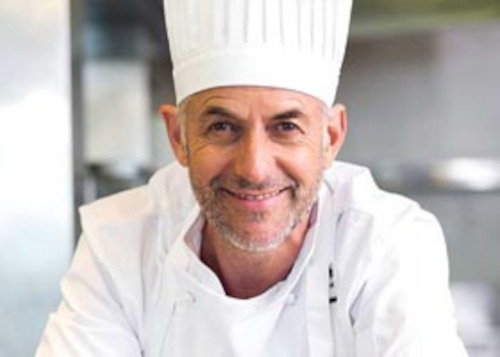 BY CAR
11 miles from junction 5 of the M25. Follow the A21 onto the A232 Croydon Road
BY PUBLIC TRANSPORT
Arrive at Bromley South Station, take the 119 to Bourne Way in Hayes Village, approximately a 10 minute bus journey, walk up Holland Way.
OR
Arrive at Hayes Station, turn right and walk along Bourne Way to Holland Way, the entrance is at the top of the hill, approximately 5 minute walk.
Address
Metropolitan Police
Hayes Sports Club,
Croydon Road
Hayes, Bromley
Kent, BR2 7AL
Email
enquiries@mpthewarren.com