FUNERALS, WAKES & CELEBRATION OF LIFE
You've probably found this page on our website because a loved one has sadly passed away and you are looking for the perfect venue to hold a funeral wake in Bromley and provide an opportunity to celebrate and recall all the memories you hold dear.
We fully understand how difficult it is to be arranging a funeral reception, please allow us to look after you, your family and friends, in a warm and friendly atmosphere.
Our staff have many years of experience for funeral etiquette and we fully understand how important it is that you have the perfect setting.  We offer practical advice and help so that you can make the perfect funeral arrangements at this sad time.  A member of our team will take time to listen to you to ensure you are happy with your choices and you can relax in the company of friends and family at this difficult time.
A perfect location near Bromley, Kent
We have rooms of varying sizes depending upon the number of guests you will be catering for.  Please be assured no funeral or wake is too large or indeed too small.  We can accommodate any number of guests, with the ability to cater for over 350 guests in our main reception function suite.  There are also a variety of smaller more intimate rooms too.  We understand how important it is that you are comfortable with your ceremony at this sad time.
Our qualified chef can provide a perfect selection of food. The catering team offers a superb choice like no other venue. Working with the best quality ingredients and using local suppliers and seasonal produce where possible, the food is simple, fresh and offers outstanding value. We pride ourselves on offering tailor made services, just for you.
We take the time to sensitively guide you through all the options available to help you celebrate the life of your loved one in the best way possible. Should you have something in mind speak to our team and we will do our best to accommodate your request.
Please click on the link below to see our buffet menu, alternatively contact us to discuss your requirements with a member of our team and to check availability.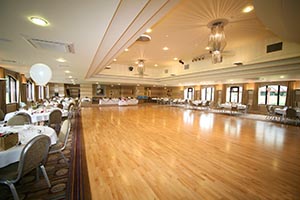 Up to 350 guests
Large Screen and Projector
Free Wifi
Sound System
Access to "The Quiet Garden"
Ground floor location
Up to 150 guests
Screen and Projector
Free Wifi
Balcony overlooking the grounds
Access via a flight of stairs
Stair-lift wheelchair access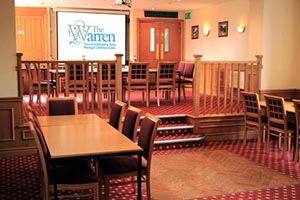 Up to 50 guests
Screen and Projector
Free Wifi
Doors open onto a small terrace overlooking the grounds
On the first floor with lift access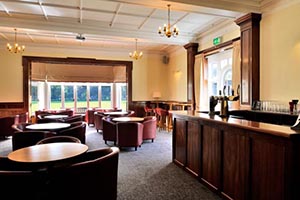 Up to 50 guests
Free Wifi
Doors open onto a garden patio
Overlooks the bowling green
Ground floor location
Disabled toilet within easy reach
Address
MP The Warren
Croydon Road
Hayes, Bromley
Kent, BR2 7AL
Email
enquiries@mpthewarren.com