EXPLORING HALLS FOR HIRE IN CROYDON
Looking for the perfect venue for your upcoming event? Explore The Warren. This versatile venue offers a range of halls for hire in Croydon, perfect for corporate events, private functions and parties, and wedding celebrations. Whether you're looking to host an impressive business event or an intimate gathering of friends and family, you'll find the perfect space at The Warren.

Hall Hire Features at The Warren
historic 19th century grade II country manor house setting
22 acres of stunning gardens and woodland
halls which can accommodate from 18 – 350 people
6 versatile hall spaces
varying layout configurations to suit your event
modern facilities including sound systems, presentation aids, stages and dance floors
all halls are licenced for civil marriage / partnerships
customise decorations for your wedding/party theme or company branding
tailored all-inclusive packages
delicious snacks, lunches, buffets and banquets specially created by our talented chefs
friendly atmosphere and welcoming hospitality staff
personalised support from our professional and dedicated events team
The Warren offers a dream backdrop for wedding receptions, special celebrations, birthday parties, christenings, celebrations of life, corporate conferences, workshops, seminars, staff parties, business meetings, and more.
Great Range Of Halls For Hire In Croydon
The Coney Suite is the main, large hall, hosting up to 350 people. It's ideal for larger private functions, weddings and corporate events. It offers a stage for your entertainment or presentations, a large dance floor, customisable lighting and sound system.
It is a fantastic hall to accommodate your all-in-one wedding ceremony, wedding breakfast banquet and evening party.
The adjoining De Zoete Garden is a secluded outdoor space available for exclusive use with the Coney Suite and is also licenced for outdoor weddings, accommodating up to 200 people. This beautiful garden is the perfect spot for welcome drinks for your guests or coffee breaks during meetings and conferences.
The Hobbit Suite, housed in a separate building with its own entrance, is ideal for those wanting a more private hall hire in Croydon, for a business event, weddings or private party.
This hall boasts a long covered balcony, a main hall that can be configured in various layouts to suit your event, a 9 x 8 metre dancefloor or stage area, a bar with additional seating set off from the main area, projectors, and speakers for speeches and presentations.
The Hobbit Suite is ideal for hall hire in Croydon for hosting a medium sized event of up to 150 guests depending on the room configuration you choose.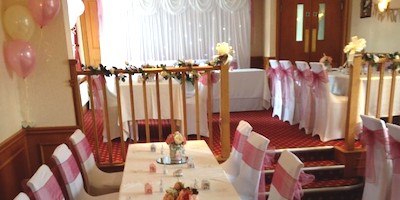 The Wickhams Room is a perfect hall hire in Croydon for intimate gatherings such as a birthday party, a corporate event or a more intimate wedding, as it can accommodate up to 50 guests depending on the layout.
Equipped with a screen, projector, microphone, and use of a laptop, this venue allows for seamless presentations and speeches whether for business or private events.
A secluded rooftop terrace adds an extra air of refinement for your guests to enjoy.
So if you're looking for party halls in Croydon, consider the Wickhams Room and make your next event a success.
You'll love the sophisticated atmosphere of the Hayes Room, a charming event space that can accommodate up to 50 guests. Located on the ground floor of The Warren Grade II listed building, the wood panelled walls give an air of class and history.
The large windows overlooking the bowling green and doors opening onto the patio and garden add to the charm and appeal of the space. The unique bar made from recycled snooker tables is a conversation starter, and the room can be set up in various configurations such as party, cabaret, classroom, or theatre.
Ideal for corporate events with a large screen, projector, and laptop available for use, The Hayes Room is also a superb hall for hire in Croydon for many kinds of events including private parties, and intimate wedding ceremonies and celebrations.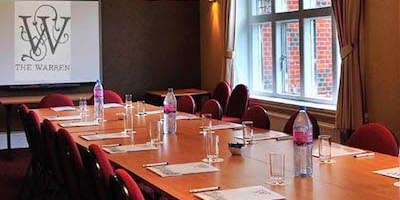 Meeting Room For Professionals
Located on the first floor of the building, the Conference Room in Croydon offers a range of resources to make any business or board meeting a success.
The Conference Room comes equipped with a screen, projector, interactive board, specialist conferencing telephone, television, and hearing loop. The room accommodate up to 25 guests depending on the layout configuration, making it perfect for smaller events and gatherings.
Access to the room is via a sweeping staircase or lift. With its convenient location and top-notch conference centre amenities, it's the perfect choice for your next meeting or business event.
Also located on the first floor and accessible via a sweeping staircase or lift, this adaptable hall can accommodate up to 20 guests.
The Committee Room is usually set up with a central board room table but it can be configures to your needs for your event.
There are plenty of resources available for successful meetings, including a screen, projector, interactive board, conference telephone, and hearing loop.
Whether you're hosting a business meeting or a special event, the committee room at The Warren is a great choice for halls for hire in Croydon.
Is The Warren Ideal For Your Hall Hire?
Whether it's a corporate function, a private celebration, or your dream wedding, the Warren has everything you need to make your event a memorable success you and your guests will love. With a variety of halls for hire in Croydon, all modern amenities, a stunning location, and experts chefs and welcoming staff, The Warren has it all.
If you're driving, we're conveniently located near Croydon in south London, just 11 miles from Junction 5 of the M25. There are also plenty of free parking spaces available on-site, including disabled spaces.
If you're taking public transportation, it's just a ten minute walk from Hayes train station with frequent trains from central London, Kent and Surrey. Local busses also service the area well from Bromley, south Croydon, East Croydon, Thornton Heath, Lewisham and throughout the area.
Address
MP The Warren
Croydon Road
Hayes, Bromley
Kent, BR2 7AL
Email
enquiries@mpthewarren.com