DELIGHTFUL HALLS FOR HIRE IN BECKENHAM
With its delightful halls for hire in Beckenham, The Warren offers everything you need to make your event unforgettable. From business meetings and conferences to weddings and celebration parties, The Warren is a stunning Grade II listed country manor house set in 22 acres of Kent countryside.
Each of our function halls is versatile and adaptable to cater to your specific event needs. Whether you're looking to host a small intimate party or a large-scale corporate event The Warren offers the best halls for hire in Beckenham.
Whether for seminars, product launches, office parties, retirement celebrations, milestone anniversaries, birthday parties, engagement celebrations, baby showers, children's parties, or other wide range of events, our team of experts will work with you every step of the way to ensure that your event runs smoothly and is a resounding success.
Additionally, our tailored wedding and corporate packages, with delicious food and beverage options catered by our talented chefs, ensure you can relax and enjoy your event without having to worry about a thing.
Our Function Halls For Hire In Beckenham
The Warren offers six halls available to choose from for your event. Each is flexible and customisable to your preferred layout depending on the type of event, and decorations can be tailored with your business brand colours or party theme.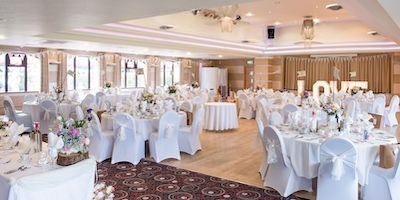 The Coney Suite is the main hall at The Warren and can accommodate up to 350 guests. It is a perfect place for larger conferences, as a banqueting hall for weddings, and for larger private parties and functions. It allows for an all-in-one venue for your wedding ceremony, wedding banquet and evening party, or for hosting business presentations and workshops in the same space.
The newly re-landscaped De Zoete garden which is adjacent to the Coney Suite is also included in this hall hire and is licenced for outdoor wedding ceremonies as well as being an ideal space for work breaks and networking. Beckenham halls for hire don't get much better than the Coney Suite!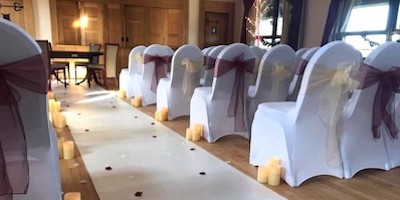 Step into the Hobbit Suite and imagine hosting your dream event in style.
This hall for hire in Beckenham provides the perfect space for medium-sized parties, weddings, and business events, accommodating up to 150 guest.
The Hobbit Suite is separate building and has its own entrance as well as boasts a long covered balcony overlooking the stunning grounds.
With a separated bar area and a 9 x 8 metre dancefloor or presentation platform, this function space caters to all your needs.
The Wickhams room is divided into two areas by three small steps, creating a natural stage platform for speeches, presentations, or the wedding top table.
The bar is secluded from the main room, and the doors lead to a quaint rooftop terrace.
You can set up the room in different layout configurations, and it's a perfect hall for hire in Beckenham for private functions, weddings, and corporate events for up to 50 people.
As you enter the Hayes Room at The Warren, you'll be transported to a world of charm and sophistication.
The room features wood panelled walls and a unique bar made from recycled snooker tables.
This hall for hire in Beckenham can accommodate up to 50 guests and opens onto the patio and gardens. It is ideal for smaller business events, intimate weddings, and parties.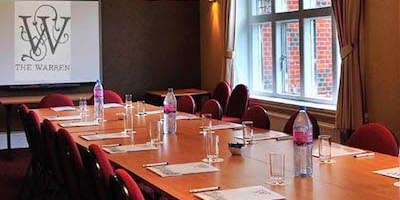 Our Conference meeting room, a small hall offers a range of resources to make your business or board meeting a success. This hall for hire in Beckenham accommodates up to 25 guests.
Access is easy via a sweeping staircase or lift, and the room is equipped with all the necessary amenities to ensure your meeting runs smoothly.
You'll love the versatility of our small hall, the Committee Room, a delightful hall in Beckenham at The Warren.
Usually set up with a central table in a board room style, the layout can be configured for micro weddings and smaller private parties too.
With a capacity of up to 20 guests, this hall for hire in Beckenham provides a perfect setting for intimate gatherings and focused work sessions.
Food & Beverages At The Warren
At The Warren, we take pride in our food and beverages. Our talented chefs craft an extensive range of food options, tailored for your event, budget, and preferences.
Whether you're after a sit-down banquet, light snacks, or a full buffet, our menus offer all the food favourites to choose from and each dish is made with locally sourced produce whenever possible.
Ready To Host An Unforgetable Event?
Whether you're looking for venue hire to hold a wedding ceremony and celebration, a business meeting or conference, a private function or party, you can rest assured that your guests will be impressed with the delightful halls for hire in Beckenham, the stunning surroundings, the excellent amenities and the attentive service at The Warren. We're proud to have been hosting events for happy clients from Beckenham, Bromley, Croydon, Kent, London and further afield for over 30 years. We'd love to welcome you and help you make memories to last a lifetime.
So, why wait? Booking our halls for hire in Beckenham your next event is easy and hassle-free at The Warren. Our friendly staff are always on hand to answer any questions and enquiries.
If you're planning to visit our halls in Beckenham, getting here is easy! We're conveniently located a few miles from Beckenham, Bromley and Croydon.
If you're coming from further afield, we're only 11 miles from the M25 and have free parking on-site. Hayes train station is just a few minutes walk away with frequent trains from central London and Kent, and we're also well serviced by local buses.
Address
MP The Warren
Croydon Road
Hayes, Bromley
Kent, BR2 7AL
Email
enquiries@mpthewarren.com